How to Send Mass Message on Facebook
Sometimes it's necessary to reach many people on Facebook directly. It could be done for selling on Facebook, to find interviewees, to hire the best candidate for a job position, or for some other reasons.
There's a great and most direct approach: send mass message on Facebook.
Start sending mass messages on Facebook now!
How Facebook automation works
Get CUCOMM Facebook automation
You can leverage Facebook for lead generation by collecting profiles from different places on this social media, then you just send bulk messages or friend requests.
Facebook lead generation can be performed here:
Facebook Groups
Friend lists of different Facebook profiles (not only your account)
Business Pages
People search
Business Pages search (yes, you can send mass messages even to business pages themselves, not only to people interacting with those pages).
I will show you how to perform Facebook outreach at all of that places (with filtering by job titles) so that you could guess where your clients are, and at the end, I will disclose "the best place formula" to leverage those places for a Facebook lead generation the most profitable way. But before that, you should know more about those places.
So, let's talk about them.
How to Send a Message to All Friends on Facebook
Let's say you want to send an individual message to all friends on Facebook without it being a group. So that everyone who receives the message sees it like if you would write it manually and personally for that person.
To accomplish this goal, regardless of whether you want to reach your own friends or friends of some other Facebook profiles, all you need to do is just the following:
Open the desired Facebook profile and click the "Friends" tab under its avatar.
In the CUCOMM extension (download here) click the "Collect Profiles" button to collect friends from Facebook.

Click "Collect Profiles" to collect friends

To narrow down your leads collection and be very specific type words which have to be in leads' job titles. This way you can e.g. take only company leaders except for other people.

Leave the field blank if you want to collect them all.

Click "Filter & Collect".

When you have enough profiles click the "Enough profiles" button.

Click "Enough Profiles" to stop collecting

Click the "Send Messages" button and type your message. You should include the [first_name] mark in the greeting to make the message look personal.

How to Send a Message to All Friends on Facebook

Click the "Send" button to send message to all Facebook friends in one click.
This is it! No more manual work is required because CUCOMM will do the rest for you. You can just take the tab out of the browser window so it could work separately from you and just do your other tasks, or have a cup of tea while it sends messages to friends on Facebook.
Now let's talk about how to send a private message on Facebook to a non-friend, it also often generates great results.
How to Message Everyone in a Facebook Group
Now I will show you the way to do Facebook prospecting in Facebook groups. Let's see how we can message members. We assume you have found some groups on Facebook (the search field is in the top left corner, then click "Groups").
To send a private message to Facebook group members:
In a Facebook group click the "Members" tab (sometimes it could be called "People").
In the CUCOMM widget click the "Collect Profiles" button, type keywords to filter profiles by job titles, and hit "Filter & Collect".

Collect profiles from group

Click the "Send Messages" button and type your message.

How to Send Mass Message on Facebook

Hit "Send" to send automated messages on Facebook.
The message is being sent, you can leave it now. That is the way how to sell on Facebook.
How to find proper groups?
It's industry-specific, but general advise is: you can try to find groups by the keywords that are related to the industry. E.g. if you're looking for Marketers, then you could try to type something like "Marketing", "Social Media", or "Google Ads" etc as a search query. If you are tied to some location or just want to split the task among multiple Sales Reps, then you could add the location name into the search query.
If you're looking for CEOs, Founders, or other company leaders, then you could type something like "New York business" as a search query.
What to do with private groups?
Usually, if a group has many mambers (lets say thoutahnds), then it's likely that admins of the group add anyone indescreminantly. So you can just send a request to join and the chanses are that you will be added soon. For smaller groups it might take more time, so to speed up the process you can write to an admin of the group. Admins are shown even if you're not the group member. You can find them here: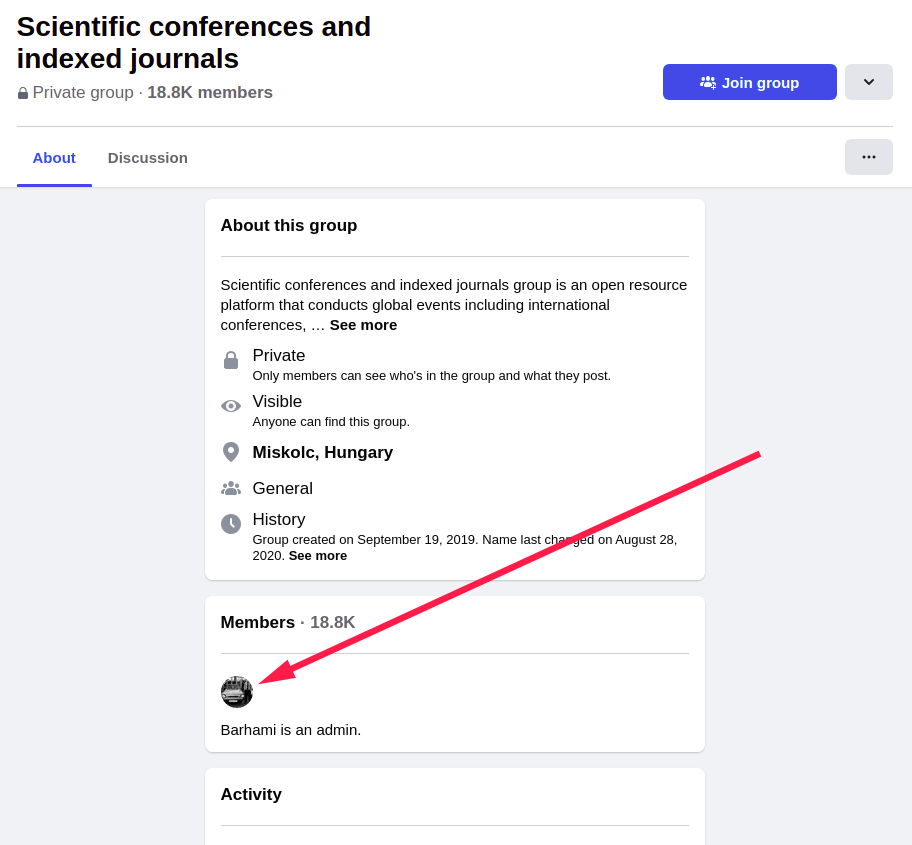 Where to find admins of a Private Group on Facebook
Now let's see how we can get leads from any Business Page.
How to send bulk messages on Facebook messenger to people, who react (likes) or comment posts on any Business Page
Almost every company has its Business Page on Facebook. That's where you can reach its clients without any effort. So, to collect leads (who have somehow reacted on posts of the page, or have left some comments) from a Facebook Business Page, you need to do the following:
Open the Home page of the desired Business Page and click "Collect Profiles" in the CUCOMM browser extension.

Collect profiles from Business Page

When you've collected enough profiles click "Enough Profiles" and then "Send Messages".
Type your message and click "Send".
That's it! You're reaching those people whoever they are: your potential clients, competitor's customers, or who else.
But what if we could grab leads directly from the People Search? Why "could"? We can! Let's see how.
Leverage Facebook for Lead Generation in People Search
Sometimes it might be useful to type some term in the search, choose the "People" section, and reach out to those people!
To reach them:
Click "Collect Profiles", specify filtering keywords to pick only leads having those in their job titles.

Collect profiles from People Search

Click the "Send Messages" button, type a suitable message.
Hit "Send" to send a message to everyone on messenger.
Messaging is in the process!
Now let's see how we can reach out to businesses directly - by mass messaging Business Page owners. If you're not B2B, then you can skip this section.
Mass Message Business Pages on Facebook
There are cases when it's necessary to send mass messages to Business Page owners. It could be helpful e.g. if you look for real estate agents - leads on Facebook, or let's say you want to reach hotels... Different purposes.
To send mass messages to Business Pages on Facebook do the following:
In the search field type the desired search query.

Collect Business Pages from search

Click "Pages" in the left menu.
Click "Collect Profiles".
Click "Send Messages".
This's it!
With all these options where to get leads on Facebook you could be slightly confused where to start. So lets see which variants you should use.
When should I look for Business Pages?
In some areas you can reach decicion maker directly if you send bulk messages to Business Pages. E.g. US realtors (real estate agents) often create their own Business Pages. So to message them you can just search for something like "San Francisco real estate agent ". The same works for Hotels and many other industries.
Where should I look for leads on Facebook?
Nobody knows your target audience better than CEO or Product owner. So if you're one of them, then ask yourself a question: "Where do they hang out on Facebook?". Let's say you're looking for CEOs/Founders. Then, probably, you could search groups for "[city name] business".
So "the best place formula" looks like so:
Make a hypothesis where your target audience is on Facebook.
Check if you have enough groups/business pages.
Check if those have enough profiles.
Check if those accounts are your real target audience (by their job titles, other info on their profile pages, or directly by messaging them and checking the results).
If your clients e.g. often visit conferences, then you could try another way: google industry-specific conferences, follow their Facebook links and collect profiles there.
Should I send mass message or friend requests?
If you don't want to add people as friends, then just uncheck the "add to friends" checkbox under the message text field in the CUCOMM extension widget. But you should know, that when you send friend requests, people get a popup notification in the lower-left corner of their desktop browser, so this way you attract more of their attention thereby increasing the probability that they will respond to you.
That is how direct Facebook sales work. Don't put it off until tomorrow, start using Facebook messenger automation now!
About CUCOMM Facebook Mass Message Sender
CUCOMM is a browser extension or Facebook tool for Marketing and Sales, which allows to mass message Facebook. Using this tool with a very straightforward interface you reach lots of potential clients, whether you generate real estate leads or leads from many other industries on Facebook. You do that by sending private messages individually to every person with personalization (the tool inserts first name, last name, company name if required). You can automatically add friends on Facebook also using this browser extension if you prefer another strategy.
Try CUCOMM now!