4 Ways to Leverage Facebook Lead Generation for Marketing Agencies
Many Social Media Marketing agencies run their business on Facebook, as it is a great platform for generating leads. With its massive user base and extensive reach, Facebook offers unparalleled opportunities for businesses to connect with their target audience. Consider these statistics: Facebook has the biggest database of people in the world, with a staggering 2.91 billion users. Additionally, 1.8 billion people actively engage with Facebook Groups every month, indicating the platform's popularity and potential for community engagement.
Huge database of leads
In the United States alone, there are approximately 240 million Facebook users. This means that almost every first US citizen is on Facebook, showcasing the platform's widespread adoption and influence. Comparatively, LinkedIn has 53.8 million users, Twitter has 56.9 million users, and the combined user base of LinkedIn and Twitter is still only 109.7 million, making Facebook's user count 4.5 times higher than LinkedIn and 4.3 times higher than Twitter. Even when LinkedIn and Twitter are combined, Facebook still has 2.2 times more users.
These statistics highlight the immense reach and user base of Facebook, making it an essential platform for Social Media Marketing agencies to target and engage potential leads. The sheer number of users on Facebook presents a vast pool of opportunities to connect with diverse demographics and target specific customer segments. By leveraging Facebook's extensive reach, agencies can maximize their lead generation efforts and drive business growth.
Facebook lead generation methods comparison
There are several ways to use Facebook to generate leads, including Facebook (Cold) Outreach, Facebook Ads, and building Facebook Business Page. While all of these methods can be effective, Facebook Outreach holds a considerable advantage in certain aspects.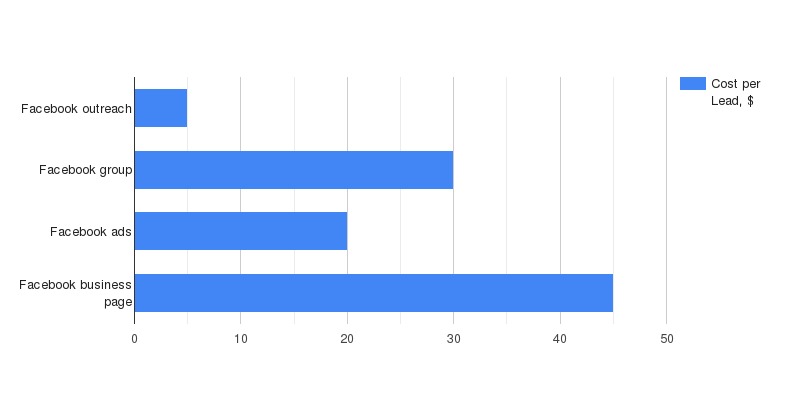 Cost per Lead
Steps to start getting leads tomorrow
If you run a Facebook Group, you need to pay to a specialist who will constantly moderate and add new content to the group, also periodically post different selling posts, collecting manually those who reacted or commented. Talking about Facebook Ads you need a specialist who knows how to set it up and optimize it every day. Since to get results on Facebook Ads you need to constantly improve the parameters. In case of Facebook Business page you also need a Marketing specialist who will write posts and a designer, who will draw images, you also need to pay for the Facebook Ads to get subscribers - so this approach is the most expensive one.
Here is where Facebook Outreach comes. All you need to pay is just for a Facebook automation software like CUCOMM, Facebook accounts (one-time payment), and proxies (just a few dollars a month). Since it highly automates the process from profiles collecting to the cold outreach itself, it won't require an additional specialist and you can do this on your own.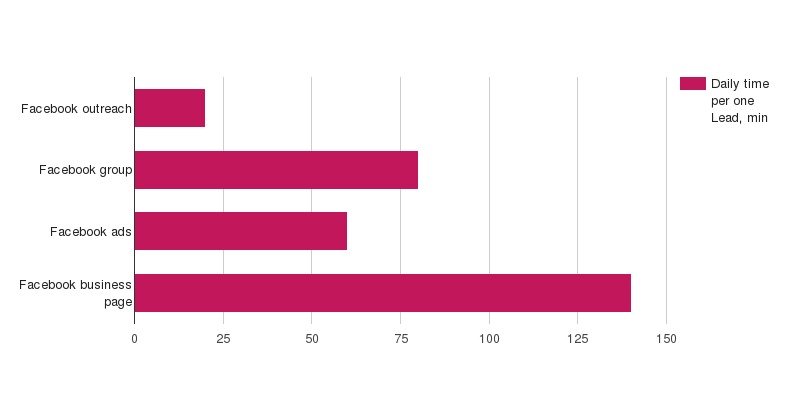 Daily time per one Lead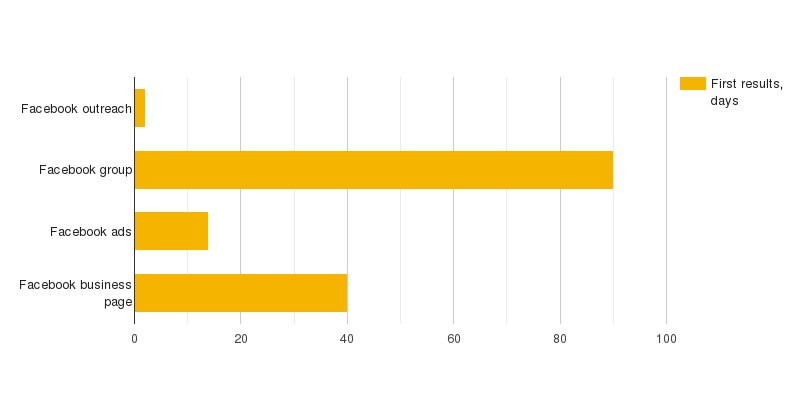 First results
It's very time-consuming process to manage your own Facebook Group; you need to spend a lot of time on optimizing Ads in case of sole Facebook Ads; and the most time is required for nurturing leads on Facebook Business Page, since it's necessary to come up with ideas, write posts, post it, reply to comments, pay for the Facebook Ads to get subscribers, syncronize with designers etc. So it may take months before you start getting your first leads.
If you're looking for CEOs, Founders, or other company leaders, then you could type something like "New York business" as a search query.
With Facebook cold outreach you start getting your first leads in the first days, then you just optimize your message and how profiles look like to get more and more leads.
You are already able to enhance the way you generate leads from Facebook just implementing outbound sales. And to achieve the greatest efficiency of selling on Facebook, it is essential to follow a systematic approach. Here are the key steps to take:
Define Your Target Audience
Prepare Your Facebook Profiles
Implement Facebook Messenger Bulk Sending
Expand your customer base
Implement split testing
Leverage CRM
Let's dive into these steps deeper:
By following these steps, you can greatly enhance your ability to schedule appointments with your clients, leading to 20-40 appointments per month minimum. The most remarkable aspect is that it only demands 20 minutes maximum of your time every day. By implementing CUCOMM, you will not only save valuable time, but also will witness a remarkable increase in your sales, thus solidifying your position as a successful player in the market.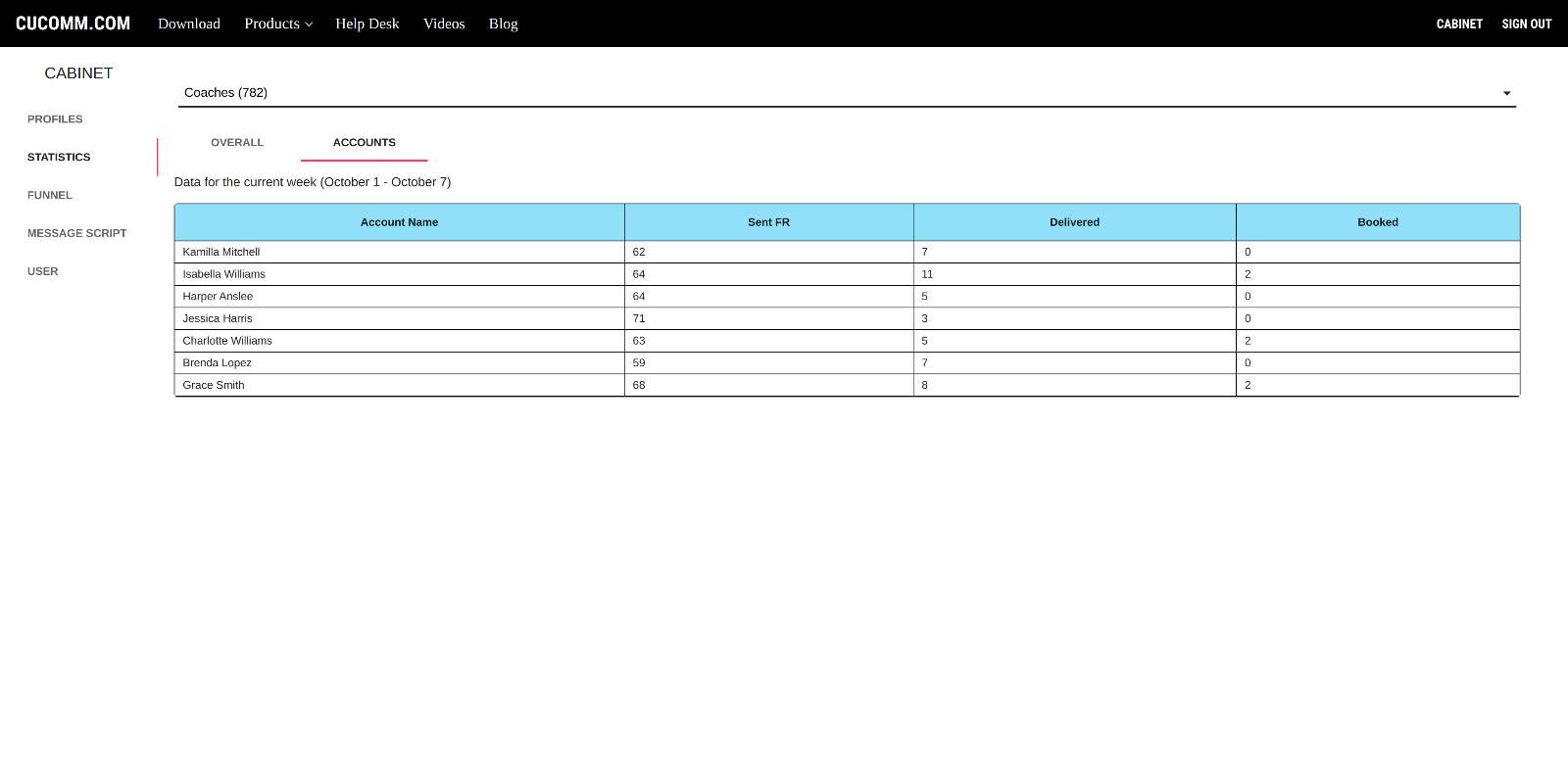 Collect profiles from group
Summarizing all of the above, Facebook offers a really great opportunity to fully reach customers, allowing you to tap into a massive user base and connect with potential leads. However, simply being present on Facebook is not enough. To truly maximize its potential, businesses need to utilize effective strategies, such as outbound messages.
Outbound messages on Facebook have proven to be one of the best ways to generate leads. By proactively reaching out to potential customers, you can initiate conversations, nurture relationships, and ultimately convert them into paying customers. This direct approach allows for personalized and targeted communication, creating a higher chance of obtaining quality leads.
To further optimize the process of sending these targeted messages, it is highly recommended to use CUCOMM automation software. With its robust features, CUCOMM enables you to streamline your messaging efforts, improving efficiency and ensuring that the right messages are delivered to the right audience at the right time. By leveraging this powerful tool, you can save time, track your messaging campaigns, and achieve better results.
If you're eager to generate leads and drive sales on Facebook, don't miss out on our offer of a free consultation. Our expert will work closely with you to understand your business's unique needs and goals. Whether you're struggling to connect with your target audience or unsure about the best strategies to employ, our consultation will provide valuable insights and guidance.
During the consultation, we will help you identify the most suitable solutions tailored specifically to your business. From optimizing your Facebook presence to crafting impactful outbound messages, we will guide you step by step, equipping you with the tool and knowledge necessary to achieve success. Together, we'll create an effective plan that will generate leads and boost your sales, taking your business to new heights.
Don't miss this opportunity to revolutionize your Facebook marketing efforts. Book a free consultation today and embark on a journey towards your business growth!